(in English и ниже по-русски)
Be Healthy Whilst Staying At Home
It is so true for many people nowadays: we just do not move that much as we used to before. Coupled with our 'stay at home' situation, or a total lockdown in some countries, and we have growing concerns that we'd gain weight.
There are many people demonstrating various exercises you can do at home. But the real weight management happens in the kitchen.
Sure thing, exercise and enough sleep, similarly to reducing stress and living a happier social life, are all precursors for health. Yet, when it comes to weight management, our relationship with food is a main factor.
So, what happens now?
We move even less than before, we have a variety of long-life staples at home and, even though most of us love cooking shows, we cook less and less. No wonder getting overweight is a concern for many during these weeks and moving forward.
Healthy common sense
Let's tune in our common sense when answering the following questions.
How can we get enough protein, essential vitamins and minerals without getting too much calories per day?
Can we also do just that without starving or putting our bodies at risk because of some strenuous diets?
The answer lies in simple math.
If we take foods that are not calorie-dense, but have the ability to satiate us well, they are the solution.
It is not surprising that these foods are plants.
Plants provide the golden ratio for your health
The best ratio of low calories per weight is achieved by dark green leafy and cruciferous vegetables, so think spinach, cauliflower, broccoli and such. Though you need a variety. As much as one can get a hundred recipes on what to do with cauliflower or broccoli, we need other foods that will make us fuller for longer. Everything plant-based that has a low amount of calories per its weight is your friend. Many of these foods simply contain a lot of water, so each of your spoonfuls isn't loaded with calories.
It is also essential that you hydrate yourself well. Many people also report that drinking a glass of water 20-2 minutes before your lunch or dinner will curb your appetite and send signals that you are not so hungry. Though we do not advocate tricking your body and going hungry for a while. Listen to your body instead. It would love lightly steamed broccoli, roasted carrots and squash, wilted spinach, fresh lettuce and juicy tomatoes.
The best ones in terms of nutritional value and also the length of time they make us feel full are starches. Pick ones that are slow-burning, so your body won't have those weird cravings during the day. Think butternut squash, pumpkin or sweet potato.
Another essential group of foods that will make us feel good is protein-rich foods that are also fibre-rich (fiber-rich) too.
What it means is that we get all the protein we need for growth and repair, but our gut bacteria will actually like it too.
Meet beans and legumes. In just 100 grams of cooked kidney beans there is just the same amount of protein as in 100 grams of steak, but luckily you'd miss out on bad cholesterol, fats and get a lot of fibre for your gut and digestive system. What's not to like?
If you are a bean novice, don't worry, you can gradually train your digestive system 'to like it'. Start with easier-to-digest foods like peas, chickpeas (in the form of hummus or falafel as well). How about a bean stew or a bean burger to boost your protein intake? And a portion of baked falafel with some vibrant sauce? We don't really know one who wouldn't like that!
Generous platefuls of healthy plant-based foods
So, in fact, if you consider these recommendations, your plate can look even bigger than usual as lots of vegetables, greens, lettuce and so on will take some space. As we also eat by our eyes, your brain will get signals of enough or big amounts of food. This is good too.
Calorie-wise you would not overeat, and you would do wonders for your health and immunity.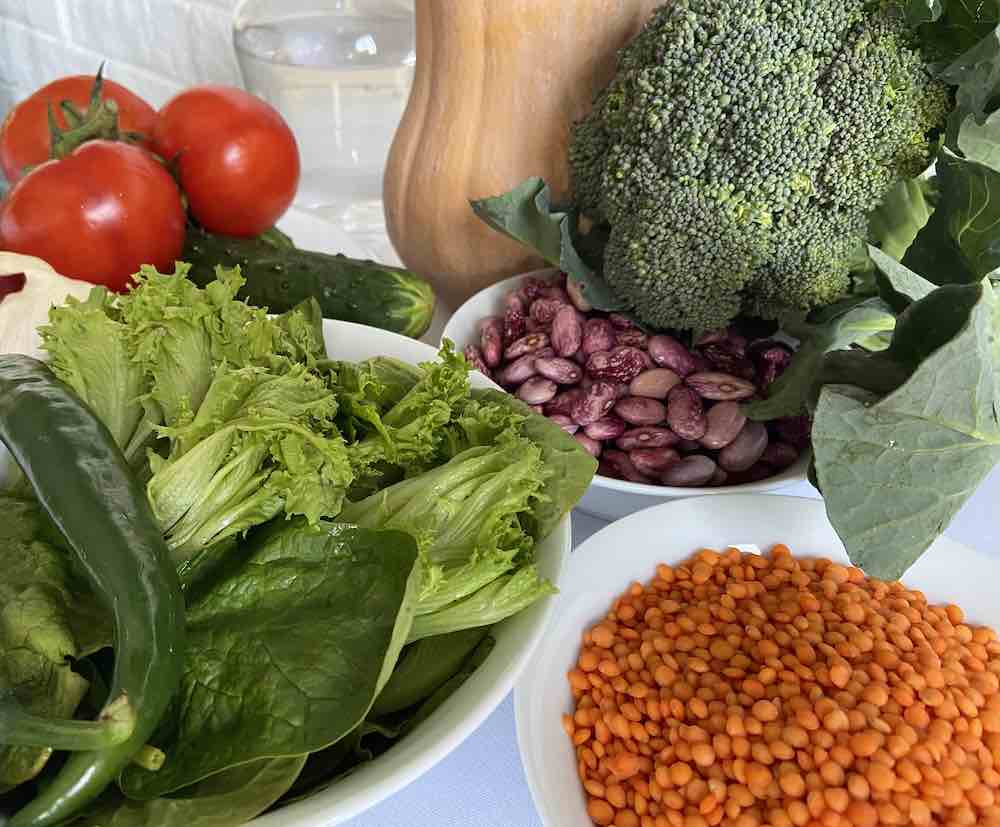 How to Manage Weight: Recommendations
Just so to sum up:
Pick up foods with low calorie per weight content (dark green leafy vegetables are your best friends, serve them with a bit of sauce for variety!)
Get a small amount of slow-burning starches to your meals (a handful of roasted pumpkin or squash will do just fine).
High in fibre (have a look at a pack of your food when it doubt, if your carbohydrate content is more than 5 times than fibre, it is not high in fibre food, but processed and not very good for you).
Good amount of protein (staying at home you at most need 0.8 gram of protein per kilogram of your weight, it is not that much as just 100 grams of beans will provide about 30 grams of protein; more protein is more strain for your kidneys, don't do it).
Drink plenty of water.
Many people and even the entire industries make healthy nutrition sound complicated. It is actually quite simple!
Save money
And an additional but very important bonus: if you do another type of math exercise and calculate the cost of these dishes, you will save a lot of money by following this.
Stay safe and healthy!
Ask us about recipes, we are here to help.
We also offer Healthy Meal Plans that are perfect for keeping your waistline in check and with ease; and they are delivered to you so you can eat healthy! Learn more here.
Browse our healthy plant-based whole foods here and order a delivery today. We deliver anywhere in Tbilisi for just 4 GEL.
How about natural wines?
As a natural wine bar, we cannot avoid but mention alcohol. Our stance is that if you decide to drink wine, pick good quality natural wines. They are not cheap, but you can drink less, but enjoy more. They are also healthier wines than conventional as they don't contain excessive sulphites or other nasties like artificial additives and preservatives. Drink and enjoy better wines.

A теперь по-русски:
Остаемся Дома: Краткий Обзор Как Питаться, Чтобы Не Пополнеть
Это текущая картина мира – мы мало двигаемся. А если добавить сюда то, что мы сейчас остаемся дома, то становится беспокойно, что мы наберем вес.
Очень много людей пытаются показать всем нам комплексы упражнений дома. Но все же, настоящая забота о нашем весе происходит на кухне.
Конечно же, достаточно физической нагрузки и сна, также как и снижение стресса и более активная и приятная социальная жизнь – это все обеспечивает нам здоровую жизнь. Но, когда дело доходит до веса, пальму первенства держит наше отношение к еде.
Что происходит сейчас?
Мы еще больше сидим на месте и у нас в запасах множество продуктов долгосрочного хранения. Как показывает недавняя статистика, многие из нас все больше и больше любят кулинарные шоу, но при этом мы все меньше и меньше готовим сами. Парадокс.
Это все начинает нас заботить, что будет непорядок с весом и здоровьем.
Здоровое питание дома
Давайте включим наш незаменимый здравый рассудок.
Как мы можем получить необходимый белок и все нужные витамины и минералы и при этом не употреблять больше количество калорий?
Можем ли мы это все сделать без голоданий и других довольно рискованных строгих диет?
Ответ лежит в очень простой математике.
Если мы будет употреблять пищу, которая содержит низкое количество калория, но при этом будет нас насыщать, то это и будет решением проблемы.
Не сюрприз, что такие продукты – это растения.
Самые лучшие продукты, чтобы не набрать вес
Наилучшие с точки зрения калорий на единицу веса – это темно-зеленые лиственные овощи. Налегайте на шпинат, салат, брокколи, цветную капусту и тому подобное. Нужно разнообразие. Если даже вы найдете 100 методов приготовления брокколи, то это быстро надоест и затея будет брошена. Включайте в рацион десятки разнообразных овощей и растений, все что имеет нужную нам формулу минимума калорий на его вес – это все подходит. Обойдите ваши прилавки с овощами еще раз (или веб-страницы онлайн магазинов) и пристально посмотрите что еще вам подойдет. Такие овощи также содержат много воды, поэтому в каждой порции не так много калорий в целом
Пить воду также очень важно. Много людей говорят, что если пить стакан воды 20-25 минут перед приемом еды, то аппетит слегка снижается и наше тело получает сигналы, что голода нет. Мы конечно не призываем обманывать свой организм. Наоборот, надо научиться его слушать. Ему понравится брокколи на пару, запеченная морковь и тыква, шпинат в салатах или боулах, свежие листья салата и сочные помидоры.
Есть группа продуктов, которые также позволят нам оставаться сытыми дольше – это крахмалосодержащие и медленно перевариваемые овощи как тыква и сладкий картофель. Они позволяют избавиться от необходимости в перекусах между едой, так как перевариваются медленнее и ваш организм сыт дольше. .
Также, нам надо позаботиться о белке. Но не просто о какой-то белке для себе, а так чтобы наша пища также понравится нашей пищеварительной системе. А ей нравится клетчатка.
Это значит что белок помогает нам расти и восстанавливаться, а употребляя белковую пищу, в которой много клетчатки, мы делаем полезно нашим друзьям в кишечнике. К сожалению в животной пище отсутствует клетчатка, поэтому встречайте бобовые, чечевицу, горох и мало переработанные зерновые.Только в 100 граммах бобов находится столько же белка сколько и в мясе, только отсутствует холестерин, плохие жиры и присутствует много клетчатки. Будем любить?
Если вы только начинаете любить бобовые, то можно это делать постепенно. Маленькие порции, а также более мягкий зеленый горошек, нут (например, в виде хумуса и фалафеля). Как насчет жаркого с бобами или бобового бургера? А может порцию печеного фалафеля с пикантным соусом? Мы точно не знаем, кому это не понравится!?
В целом, если мы с вами будем придерживаться этих рекомендаций, то на нашей тарелке окажетися больше еды. Растительная пища более объемная и наши глаза будут говорить мозгу, что все ОК, есть много еды. Это также хорошо. Мы не будем переедать по количеству калорий и это принесет большую пользу вам, вашему организму и иммунной системе.
Рекомендации по полезному питанию, чтобы не набрать вес, будучи дома
Подведем итоги:
Выбираем низкокалорийные (на единицу веса) продукты такие как темно-зеленые овощи и прочее, что будет супер в салат.
Добавляем немного крахмалосодержащих ингредиентов типа тыквы или сладкого картофеля (около горсти).
Покупаем продукты, богатые на клетчатку (если сомневаетесь, возьмите упаковку и посмотрите содержание углеводов; если его разделить на 5 и оно все еще больше количества клетчатки, то такой продукт не годится, он переработан слишком сильно).
Употребляем достаточно белка (оставаясь дома, нам точно не надо больше 0.8 грамм белка на килограмм нашего веса, а это совсем немного – только 100 грамм красных бобов будут содержать 30 грамм белка). Больше белка не нужно, а даже вредно для наших почек.
Пьем достаточно воды.
Много людей и бизнесом делают здоровое питание чем-то очень мудреным. Полезное питание на самом деле это просто.
Экономим!
Также, для тех, кто готов к еще одному математическому упражнению, еще одна задачка – посчитайте стоимость ваших блюд, если будете придерживаться наших рекомендаций. Будете приятно удивлены так как экономия будет очень существенная!
Оставайтесь здоровы и в безопасности.
Спрашивайте нас, мы делимся рецептами и готовы помочь.
А как же натуральные вина?
Как бар натуральных вин не можем не оставить в стороне вопрос алкоголя. Если вы все же решите пить вино, то выбирайте натуральное. Оно не будет дешевым, но лучше меньше да качественнее и здоровее. Покупайте натуральное, без добавок, красителей, с минимум сульфитов и без особых вмешательств. Наслаждайтесь!