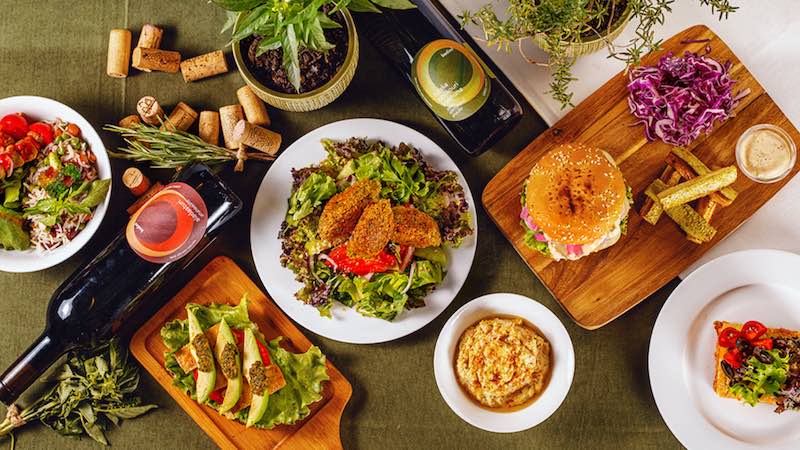 Evidence Is Clear
There is no need to repeat ourselves about the countless reasons why one might consider switching to a vegan lifestyle. Whilst there are still many unknowns in our current knowledge about nutrition, nobody really argues the fact that plant-based whole foods are good for you. Let's call it healthy vegan.
At the same time, meat and dairy products are not. Animal-derived fat triggers a rise in cholesterol and leads to severe clogging of arteries. Based on the statistics, the majority of humans in the world die from heart disease and not anything else.
Dairy is all fat and hormones, a combination that triggers allergies and digestive system problems. Removing dairy products helps to alleviate many of the known allergies, boost the immune system and simply withstand colds and flu better. Not a bad thing!
Another important chunk of reasons is connected to the fact that we humans no longer require to kill in order to get balanced nutrition. It is ethically right to protect all sentient life on our planet. All religions contain 'no kill' in their scripts, but even if you are not religious or an agnostic, it is quite a given that being kind makes a better life, a better life for all.
And of course, we do not want just to live somehow, we want to live well. A good environment is key. We want good ecology for us and our children. Animal agriculture and industries are the worst in the world in terms of their damage to our environment: they are wasteful in terms of resources and contaminate our ecology much more than the transport system. Think about that, it's mind-boggling!
But enough about this, you can get information so freely now on the Internet. We also like some of the independent documentaries like 'What The Health' and 'Conspiracy' available on Netflix. There are many books and blogs. Education is key.
Follow Your Common Sense
Dismiss everything that does not make sense to you or contradicts.
Be vigilant though – meat and dairy industries are powerful and they have paid for a lot of confusing information poured all over the Internet to make everyone think and feel that their produce isn't 'that bad' or isn't 'that harmful'. They plant these seeds of confusion to discredit facts that humans thrive on plant-based whole foods and are able to reverse many lifestyle diseases. With meat, dairy and unhealthy processed foods people are only getting sicker. And guess what, another powerful industry, pharmaceuticals, is also very happy to get your money to treat your lifestyle diseases triggered by very poor nutrition that damages your health.
Barriers to Going Vegan
Now, with all the irrefutable evidence there are quite a few barriers. Though, in reality, they are just misconceptions.
Let's start with a funny one. When we asked our good friend about going fully vegan, she agreed that it is healthy and all our reasoning was solid, but she cried: "how would I feed my husband?!"
We find it funny because there are too many underlying factors that lead to this confusion.
For starters, there is a very misconceived image of plant-based foods not to suit the macho men. We think that even if to use such term as macho man, he, first of all, needs to be healthy, and not obese with many lifestyle diseases. There is nothing macho about being sick.
Secondly, the issue lies with a simple lack of information on how to eat healthily and add nutritiously-dense foods into your meals. Everyone gets comfortably full on healthy vegan diet!
Surely, a simple house salad isn't going to cut it for an active man. But you can look towards meals made with ingredients that are rich in high-quality plant protein (like beans, peas, chickpeas, tofu and so on) and healthy fats (nuts and seeds are perfect, so are sauces like pesto, use extra virgin olive oil for dressings, coconut oil for light frying). It is easy to enjoy hummus, falafel, bean burgers, protein chilli, lentil soup, and so many other nutritious and healthy dishes. You are gonna get balanced nutrition and be full for longer!
If you workout and you know you need a bit more protein, it is easy to add. If you are not active and having a lazy weekend, it is also easy to reduce calorie intake and look at some of the most fantastic salads like kale or mushroom Caesar.
Protein
Let's move on to a more frequent one – where do I get my protein? OK, well let's start with the fact that many meat-eaters simply overdo the protein intake and thus make some damage to their kidneys. An average recommended amount is about 0.8g of protein per kg of weight. So if you are 80kgs strong man, you just need 64 grams of protein. Knowing that 100 grams of red kidney beans would have around 25-30 grams of protein, it is evident that getting enough isn't an issue at all!
Milk
Got milk?! Do you remember this advertisement campaign in the US to promote milk consumption? It is not surprising to conclude that many are still being brain-washed about anything good that can come from milk and having enough calcium. In fact, many of the recent studies completely debunked the myth about milk and calcium for your bone strength. Again, you can get all the calcium your body needs from plants. And without fats and hormones. Not a bad thing to do!
Getting off milk will help many to reduce or even completely reverse their allergies, feel better and get much fewer colds and flu. Proven fact!
B12 Vitamin
Now, another fact that other industries like to cite is that vegans are deficient of B12 vitamin that normally comes from animal-derived foods. They forget to mention that animals take it from the soil and if we humans would live in wilder surroundings and grow our own food, we would have enough B12 too. We live in sterile cities and that's why we don't have enough B12. Many of us actually, not just vegans. We require very minimal B12, so having it in a form of the supplement every now and then isn't a bad idea for all of us.
Do I need dozens of hard-to-find ingredients to cook healthy vegan?
Let's move back to some fun stuff. How would you like to hear that plant-based foods are difficult to cook? Indeed, some of the food bloggers are making their recipes for people who probably have all day to cook and shop for a ton of different ingredients. But it doesn't need to be the case. It is amazing to see different books, blogs and videos that focus on easy nutritious plant-based whole food recipes. We like many plant-based cookbooks and some of the 5-ingredient ideas that you can simply google for.
Our favourite example – Buddha Bowls. Healthy bowlfuls of whole foods that have 4 groups: grains, starches, protein-rich foods and leafy greens under your favourite dressing. Mix and match ingredients, make it interesting every time!
Good food isn't difficult to cook, what's difficult is to change your thinking, cooking and eating pattern. But fear not, read on and discover our useful tips and 7-day healthy vegan meal plan.
Is it expensive?
Next comes a very delicate question of price. Is it all very expensive, some people are curious? We all have our budgets and the only fair rule of thumb that makes sense is that we all should get the best possible foods we can afford comfortably.
Plant-based ingredients are generally not expensive and most of our guests and customers report on saving at least 25-30% when switching to a healthy vegan regimen. But it depends on you. Whether you want to splash a bit more on buying organic or some of the exotic superfoods. Though, if you buy local, high-quality produce, it shouldn't be super expensive. Buy local, support local businesses, farms and people in your community.
Finding good ingredients isn't hard, but at first, you just need to refocus your eyes to fresh supermarket aisles, google where are your local farmer's markets and shops with quality produce. Whole foods are the only food that will nourish your body and mind, so it is worth investing some time in finding where to get those. It is not difficult.
Is it just all just healthy foods and no comfort?
Blimey, why can't it be both? Take the regular comfort food you think about, remove the meat and dairy and, if desired, replace with some additional vegetables, grains, mushrooms, beans or peas. Your shepherd's pie will be equally delicious without mince but with lentil and mushroom ragout, your pasta dishes can be creamy and indulgent with cashew sauce and you can bake Greek Moussaka with layers of tofu and plenty of eggplants.
We probably forgot to mention vegan burgers, they are so good! Try a classic one with chickpea patty or opt for crispy mushroom one. Why not create a falafel patty as well?
Mouthwatering dishes done exclusively from plants and using mainly whole food ingredients are delicious. Everyone who says otherwise simply can't cook! Send them to us! We've got amazing healthy vegan dishes available to buy online & delivered to any address in Tbilisi.
We also offer Healthy Meal Plans that are perfect for your first steps in plant-based whole foods nutrition; and they are delivered to you so you can eat healthy! Learn more here.
Remember your WHY
Listen, change is not easy. We may resist it, invent a multitude of 'reasons' why not to do something and self sabotage our health.
So to keep yourself in check, simply get back to the issues we've discussed in the beginning – remember why you are transitioning to a healthy vegan lifestyle. It is a given that most frequently people do it for health reasons, but then they think about their children and family, they start to care about someone or something rather than just themselves. This is very powerful!
Having a powerful cue in your mindset will make this journey easy and fun. You are fuelled with inner energy to make it happen. For yourself, your close ones, but then for the planet and to stop the unnecessary killing.
Get back to your WHY and there won't be things that you won't be able to accomplish.
Easy 7-Day Start To Become A Healthy Vegan
No stress! Go easy and simply create a 7-day meal plan. Obviously, the Internet is full of different examples, we have our suggestions below, but please just google vegan meal plans and you'd have plenty, trust us!
When you've selected the dishes, create your shopping list and get the majority of the groceries in one go. Well, unless you like going to the supermarket every day!
Go shopping and optimize your pantry. Keep in mind, your task is to add plant-based whole foods literally to every meal of yours. Add them and then feel free to remove your old unhealthy ingredients.
Whilst there are plenty of vegan recipes online, many bloggers invent the recipes without actually cooking them. It creates unnecessary mess and confusion in the kitchen. Simply save your fail-safe recipes, start a recipe swap file – a collection of your tried and tested vegan recipes that you loved cooking and eating. Next time you are going to be thinking about what to cook, just open your file. Easy!
We are sure you can achieve balanced nutrition on plant-based whole foods every time! Your body and mind would love you for that. Availability is here, if you forgot something, order delivery, we are always happy to help!
| | | |
| --- | --- | --- |
| Day | Course | Dish |
| Monday | breakfast | Oats, mixed fruit and plant-based milk |
| | lunch | Detox bowl |
| | dinner | Ultimate protein chilli |
| Tuesday | breakfast | Green smoothie |
| | lunch | Protein bowl |
| | dinner | Zen lentils soup |
| Wednesday | breakfast | Kale smoothie |
| | lunch | Skinny French lentils bowl |
| | dinner | Vegan Caesar salad with mushrooms |
| Thursday | breakfast | Red berry smoothie |
| | lunch | Omega quinoa bowl |
| | dinner | Greek kale salad |
| Friday | breakfast | Granola, mixed fruit, coconut chia pudding |
| | lunch | Superfood bowl |
| | dinner | Vegan bowl (whether you eat in or eat out) |
| Saturday | brunch | Hummus, Italian Panzanella salad |
| | dinner | Falafel Fusion & Carrot cake; don't forget to invite friends! |
| Sunday | brunch | Hummus bagel, Green salad with grilled pear and a glass of natural wine |
| | dinner | Greek Moussaka and share a bottle of natural red wine with friends or family |
Use our Healthy Meal Plans that are perfect for going vegan; and they are delivered to you so you can eat healthy! Learn more here.
Keep on going. Make being healthy vegan fun!
You probably already have got an idea how to go on and what to expect. Your dishes are full of nutrients, fiber, enough protein, vitamins, minerals and antioxidants. Plant-based whole foods make you feel lighter, manage your weight better and you look and feel happy and healthy.
Surely, eating the same dishes over and over again might bore you. Treat each day as a separate day which you can make interesting and fun! Have a peek at your swap file, maybe there is something you wanted to try? Surf recipes online and shortlist ones you feel excited about.
Cook a feast and invite friends. Decide to throw a game or a date night. Surprise your parents with a home-cooked plant-based dinner.
Healthy Vegan
Make sure it is healthy vegan, full of plant-based whole foods and not junk foods.
Whilst there is nothing super wrong with an occasional portion of French fries, simply don't make them a staple.
Surely, you can go plant-based and still be very unhealthy. That happens because people do not cut on the processed foods, and remain eating lots of sugar, refined oils and dishes made with white flour. Cookies and fries won't make anyone healthier.
Choosing whole foods means really limiting processed foods, refined sugars and white flour. Though, trust us, when you do that for quite a while and after that, you have a bite of something ultra-processed you won't like it! Your body and mind know better, your receptors will transform to enjoy tasty and flavoursome whole foods. And it is not going to happen overnight, so manage your expectations and be realistic!
Sign up for our Healthy Meal Plans that are perfect to go vegan with ease; and they are delivered to you so you can eat healthy! Learn more here.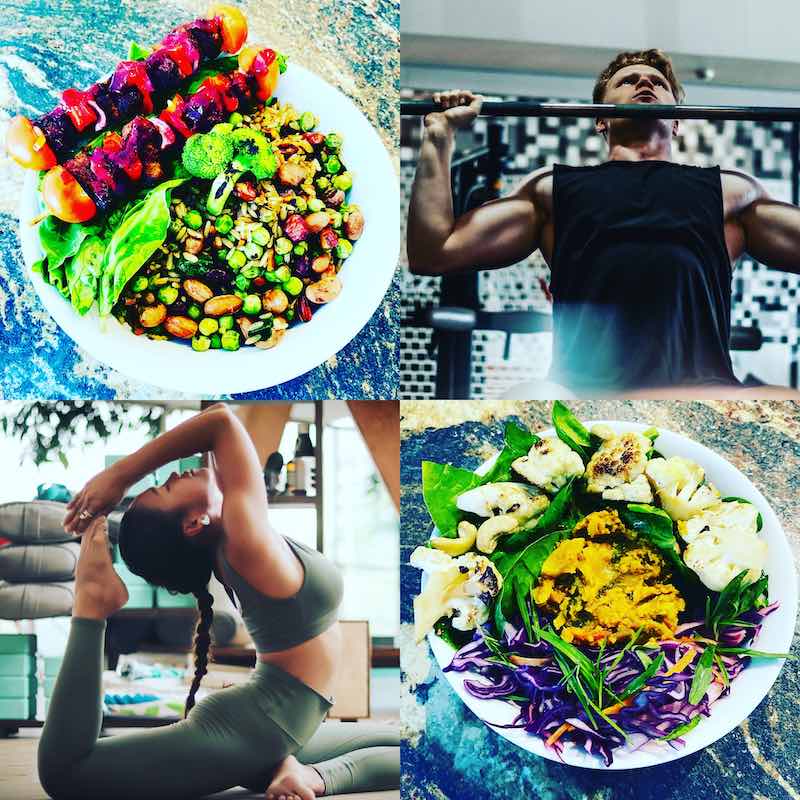 Sharing is Caring
After some time, you will see your health improve and you would be over the moon. Now as you've seen the benefits, share the knowledge. Share your healthy vegan journey with us, so we also can become better, but do tell your friends and family. You will have your own know-how, your delicious recipes, places you really enjoy eating and markets you've met your local farmers and growers. This is so exciting! 
Share the love with plant-based dishes
Cook at home with our plant-based groceries