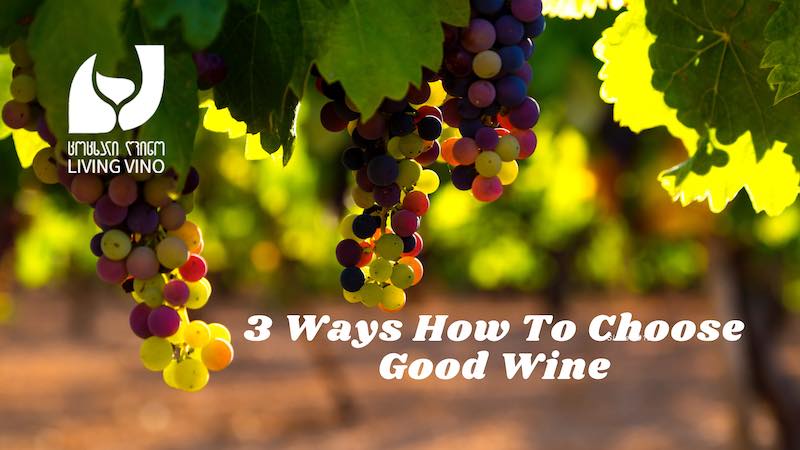 Living Vino is a natural wine bar and we simply want you to drink good wine.
Today we are not discussing the reasons why to choose natural wines. You can check out our blog and find out more what are those natural wines exactly. We've also made a point about how natural are Georgian wines. In our wine school lesson on Healthier Hedonism we also give directions on how to drink better wines. And, of course, there is a huge topic of provenance of wine, why we work with artisans and not factories and the fair-trade price of wine. Hope you find it all interesting and useful.
How To Choose Good Wine
Though today we'd like to simply give some pointers on how to choose good wine. Let's go.
Scan the label for certificates like 'organic', 'biodynamic' and such. Certified winemakers definitely correspond to more tight regulations on what you ca and cannot add to wine on every stage of the process. These are definitely better wines as they contain less or none of the harmful additives that are used in factory winemaking. Please note, many small winemakers simply do not bother with a proper certification. It is quite a lengthy and bureaucratic process and for some with just a thousand bottles produced it doesn't make any sense. Hence or second recommendation is all about knowing more about the winemaker behind there wine you're selecting
Buy trusted wine from the known winery. The best case scenario obviously is to visit the winery and have a chat with the winemaker. You can sample the wines and get to know the entire process – from the grapes they grow or buy and to the additives they use. It is not usually convenient, so you can take note of any wine festival or exhibition happening and visit the event in order to try many of the wines at one go and meet the guys who make them (or at least representatives who can answer your questions). If this fails and there are no such events on the horizon, then opt for a mixed case of wine. It might not be as expensive as you think as you might need to travel far to the winery or to the wine expo. Simply check who are your local natural wine shops or natural wine bars and get a mixed case of natural wines of the styles you like. Try and make some notes, have a closer look at the label, you may find some more details written on them. If you have a local natural wine bar closeby, simply visit them to sample many wines; it is very probable that they would offer a tasting wine flight.
Read the label more thoroughly. Many uncertified organic wineries stipulate their practices on the label. You may find something like, 'low intervention', 'no added sulphites', 'unfiltered', 'wild yeast' and so on. All these indicators will tell you that the winemaker cares about the process and controls it well in order to produce a more natural wine.
Now, you are equipped with some knowledge about a bottle of wine. So what is really good wine? Natural wine made with care and without nasty additives still could be good and bad. It is a matter of expectations.
What Are Good Wines For You?
In our wine school we discuss the influence of oak, levels of acidity, body and tannins. These are all important factors to consider because our palates are different and we expect different things in our wines in order to call them good.
So a bold natural red wine with rich and pronounced tannins, high acidity and alcohol might be a good match for your friend. But you may prefer a lighter bodied Pinot Noir. As to your enjoyment, you'd probably won't say the first wine is good. It is not good for you personally. And that's it. Learn about your preferences and buy exactly the wine that is good for you.
So again, label will help. It shows alcohol level, a region or a grape variety. And sometimes winemakers will put more details as for the use of oak and how tannic is the wine. After all, reading is fundamental indeed.
That's all guys, let us know your quirks and we are always happy to mix up a case of natural wines for you, according to your preferences.
Here are some of our top selling wine cases available to buy online. We offer delivery throughout Tbilisi.
Gaumarjos!