The question of protein sources is so frequent, we've decided to make a rather long read based on all our posts about it recently.
Many people ask us all the time about getting enough protein 💪 when eating plant-based, vegan or vegetarian. Before we even start, do not worry, it is actually very easy.
Living Vino is a plant-based restaurant that offers nutritionally balanced plant-based dishes (100% vegan), Mediterranean-inspired, delicious and health-conscious. So we've decided that this protein concern needs to be de-mystified once and for all with this blog article about the best foods for plant-based protein!
But, Where Do You Get Your Protein From?
The rule of thumb is to get a variety of beans, lentils and other legumes but also tofu and seitan.
Please do not get turned off by beans, chickpeas and lentils, they are rich in protein but you don't necessarily need kilograms to get your required amount. In fact, we normally require just 0.8-1g of protein per 1kg of your weight per day. You can simply calculate your requirement now and find out that getting enough protein isn't such a big deal.
Plant-based Foods Rich in Protein
Let's have a quick look at different ingredients that will become your main sources of high quality plant-based protein.
Red kidney beans – 24 g protein per 100g
Chickpeas – 19 g protein per 100 g
Lentils – 9 g protein per 100 g
Green peas – 5 g protein per 100 g
Now, you need some variety in your meals, and thus other sources of protein. You also want flavours, so it is actually going to be very exciting. There are two more foodstuffs that are rich in protein and soak up different flavors so well – tofu and seitan. First is made of soya beans and second is a wheat protein (we will go into more detail about seitan below, continue reading).
Tofu – 8 g protein per 100 g
Seitan – 75 g protein per 100 g (shockingly rich in protein, right?)
In addition to that, seitan is also a good source of selenium and iron, so no wonder it is being called sometimes as vegan meat.
Tofu is great too – it contains all 9 essential amino acids, it is rich in calcium (forget about dairy!) and iron, but also manganese and phosphorous. In addition to this, it also contains magnesium, copper, zinc and vitamin B1.
Now you can be absolutely sure – with a balanced plant-based diet you can get plenty of high quality protein plus lots of additional beneficial vitamins and minerals and no cholesterol, harmful hormones, antibiotics or other nasties.
Living Vino Dishes with Protein-Rich Ingredients
We at Living Vino offer protein-rich dishes with beans like Cauliflower Wings and Lobio Fusion, various Buddha Bowls, Neatballs Puttanesca Zoodles and Seitan Fingers with Mexican Salad.
Our lentil dishes are Lentil Soup, Skinny French Lentils Bowl and Detox Bowl.
You can get chickpeas in our Hummus, Vegan Burger, Falafel Fusion, Caesar Salad and Greek Kale Salad.
Our tofu dishes are Panzanella Salad, Muscle Bowl, Falafel Fusion, Vegan 'Fish' and Chips.
Finally, you can find seitan in our Seitan Fingers with Mexican Salad, Zen Burger, Caesar Salad with Seitan and Vegan Schnitzel.
✅ Get enough plant-based whole foods and protein for your health and wellness!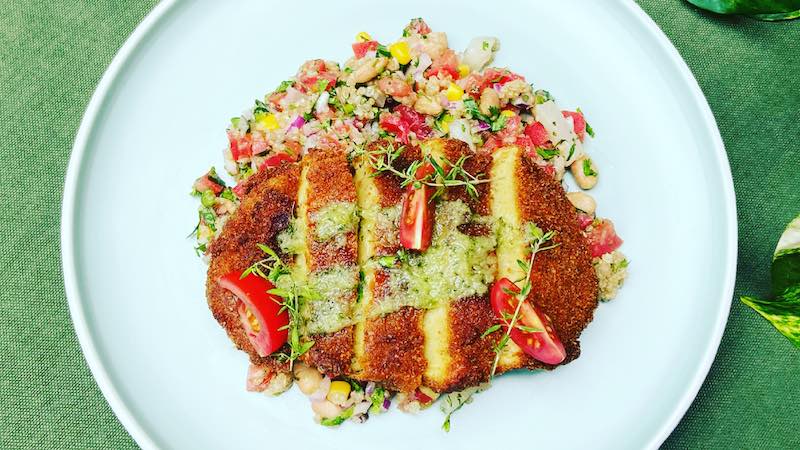 So What is Seitan?
As promised, let's outline a bit more what is seitan.
Whilst 'wheat meat' has been around for many centuries and is a staple in China and other Asian countries, seitan is something rather new. It is made of wheat gluten and contains an enormous amount of protein as you already know.
Seitan is low in carbs with just 8 grams per serving and very low in fat with just 1 gram per serving. Perfect for those who follow low-carb or/or low-fat diets.
Also, a portion of seitan provides 10% of your daily requirement for iron, so if you don't want to eat kilograms of spinach each day, this is a great addition to your daily meals.
Now, many industrially made vegan sausages & meats are produced with seitan. Watch out for a multitude of preservatives that are being used – you definitely want to avoid unnecessary crap. Allow us to be blunt.
We at Living Vino source pure seitan and make vegan schnitzels. They are lightly covered in batter and breadcrumbs. Just like the real thing but with no cholesterol or fat. Order it to be cooked at home or try our Vegan Schnitzel dish!
We also cut it into strips to form fingers and they go into our Spicy Seitan & Mexican Salad dish.
Visit Living Vino or Order Delivery
Living Vino's location is at 56 Lado Asatiani Street in Sololaki, Tbilisi ❤️. Leisurely, it will take you only 10 minutes to get to us from Liberty Square ☮️.
Book a table and visit us to enjoy these dishes.
Fancy delivery? 🛒 LivingVino.com/shop – shop direct with us! When you support our business we are so grateful and offer you additional discounts & a delivery to any address in Tbilisi.
You can order our dishes & frozen grocery items via Wolt & BOLT Food, Glovo.
Many thanks and stay healthy, happy & safe!
#livingvino #seitan #vegan #schnitzel #grocery #fingers #mexican #salad #ვეგან #ჯანმრთელი #მიტანა #მარხვა #vegantbilisi #tbilisi #delivery #online #happy #safe #health #protein #health #iron #healthy #dish #chicken #veganmeat #wheatmeat