Have you tried kale before?
If so, did you know that kale is among the most nutrient-dense foods on the planet?
Kale Benefits
It's loaded with powerful antioxidants.
It's full of vitamin C, 4x more than spinach.
Kale can help lower cholesterol and may reduce the risk of heart disease.
There are numerous cancer-fighting substances in kale.
Kale is a good source of minerals that most people don't get enough of.
Kale helps you to lose and manage weight.
Kale: how to cook and our favourite vegan recipes
Kale is sturdier than lettuce and cabbage and requires a bit of extra handling. We love cutting it into fairly large pieces and then adding the best quality salt and massaging it with our hands. Then we simply leave it to soften.
We then use it in Buddha Bowls and salads. You should expect all the natural goodness of kale to boost your immunity and health.
If you feel like treating yourself with a low calorie snack, simply chuck kale pieces to a preheated oven for 5 minutes and make kale crisps!
We at Living Vino know how to make healthy vegan dishes from kale!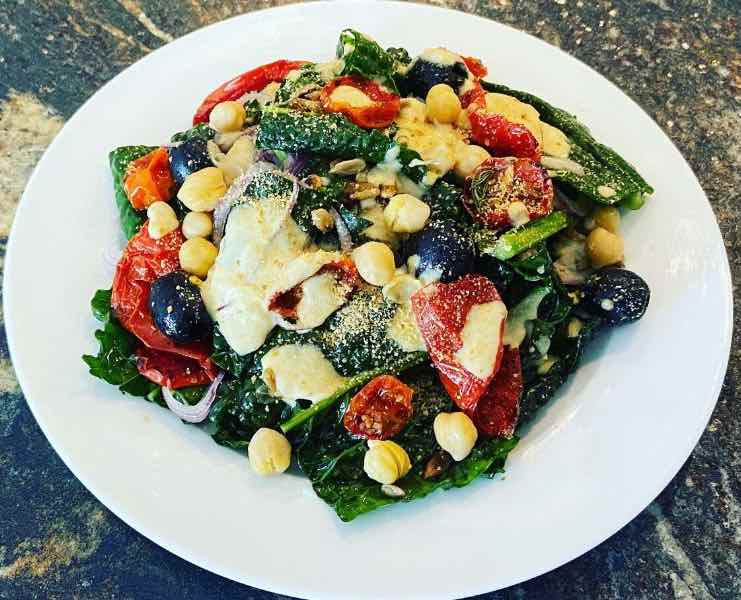 Greek Kale Salad with Creamy Tahini Dressing.
Start by preparing the following ingredients for the salad:
1 medium bunch of curly green kale
Fine sea salt
300 g cooked chickpeas
100 g good quality olives
70 g sun-dried tomatoes, rinsed and drained
1 tsp nutritional yeast
70 g sunflower seeds
1/4 teaspoon extra-virgin olive oil
You will need the following for the dressing:
60 g tahini
3 tablespoons lemon juice
1 tablespoon extra-virgin olive oil
1 medium clove garlic, minced
1/2 teaspoon Dijon mustard
1/4 teaspoon fine sea salt
2 tablespoons water
Freshly ground black pepper, to taste
How to prepare Kale salad:
Place the chopped kale in a large serving bowl. Sprinkle it lightly with salt and massage it with your hands by scrunching up large handfuls at a time until it's darker and more fragrant (this makes the kale more tasty and easier to eat). Add the chickpeas, olives, sun-dried tomatoes, and nutritional yeast. Set aside.
Toast the sunflower seeds. Add these toasted seeds into the salad bowl.
Prepare the salad dressing. In a small measuring bowl, combine the tahini, olive oil, lemon juice, garlic, mustard, and salt. Whisk until blended. Add the water and whisk until blended. Season generously with freshly black pepper, to your taste.
Pour tahini dressing to your salad (you might not need quite all of it, but we like a lot of it there). Toss until the salad is evenly coated with dressing. Serve immediately.
So delicious and incredibly healthy!
Kale Salad with roasted Butternut Squash and Lentils
Another kale dish that is also amazingly easy to make and you need just a few ingredients for it, namely:
200 g green lentils, cooked
200 g butternut squash, cut into cubes or 2 cm half-rings
100 g kale
fine sea salt
chili flakes
French dressing or diluted pesto
How to make it:
Start by cutting kale into larger chunks, adding salt and massaging it. Leave for 10-15 minutes.
Meanwhile, roast your squash with chili flakes. The contrast of sweet squash and hot spice is incredible.
Also, make sure you cook green lentils according to pack instructions. We are using pressure cooker, so they turn out very soft but not mushy.
Now, when everything is ready, assemble the dish by adding lentils, squash and kale. Dress either with French dressing or diluted pesto, it is great either way!
Make great use of kale for your health.
Come and visit Living Vino in the central Tbilisi to enjoy delicious healthy vegan food (and some natural wines carefully selected by our UK certified sommelier). Book a table today!