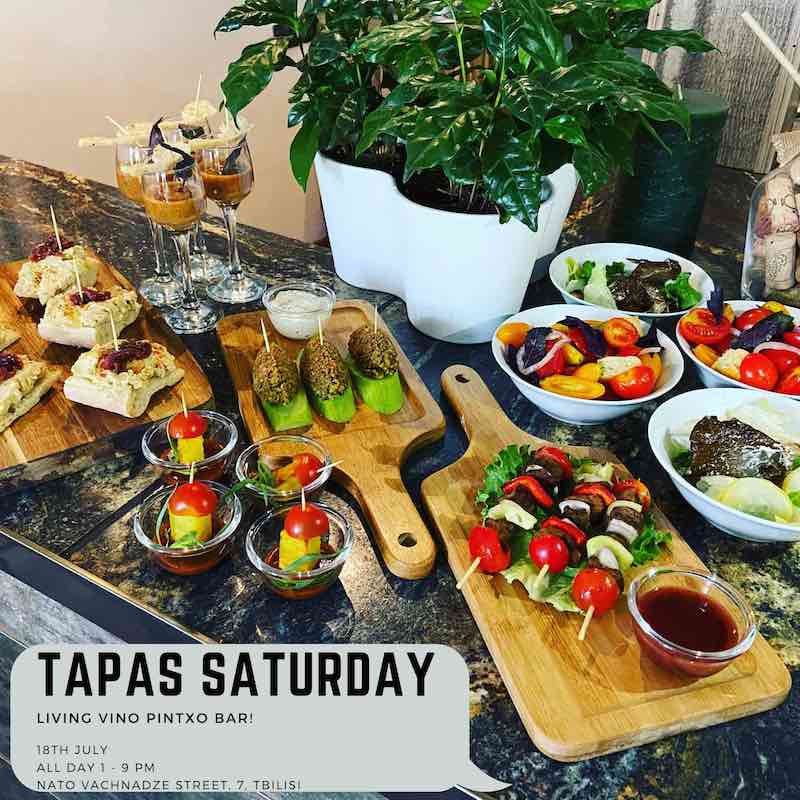 On the 18th July Living Vino will transform into a classic Pintxo Bar with a huge variety of pintxos & tapas right at our bar!
With small sticks&skewers costing 2 GEL and large at 4 GEL you can eat as little or much as you want, have a go at our special selection of natural wines and enjoy your Saturday.
Some of the tapas dishes that will be on offer and full display:
Lentil Hummus with caramelized onions
Protein Skewer
Falafel with fragrant dipping sauce
Patatas Bravas
Soya Popcorn
Mini Schnitzel
Mini Panzanella salad
Mini Burger
Mini Caesar Salad
Beetroot Pkhali
Gazpacho
Our pintxos will be waiting for you all day long from 1pm to 9pm. And it is very simple and fun: simply grab a plate and then approach our bar to select the pintxos you want. Grab more tasters when you feel like it. At the very end simply come to the cashpoint with your sticks&skewers to pay accordingly. That's how Spaniards do it, so why not to have similar fun in Tbilisi?
Simply pop in yourself or grab your friends with you and enjoy vegan tapas with some Spanish and Georgian influence and fusion. Contact us if you'd like to reserve a table – here is our table booking form.
And of course, our natural wine list offers a lot of interesting matches for your tapas. If you're not sure, simply ask our Sommelier with UK wine diploma to assist and select something that you'd enjoy immensely. You can also opt for our wine tasting with your vegan tapas, at 15 GEL you can try 3 different wines and make up your mind!