About Living Vino Market 🛒
We at Living Vino have had a small range of frozen groceries like burger patties, schnitzels and falafels, but we wanted to offer you more of delicious plant-based goodness. And we've wanted to make this produce cheaper and more accessible.
Et Voila, great news! We've launched a separate entity called 'Living Vino Market' – you can find a separate category Market on our website here, but also separate stores on Bolt Food and Wolt, they are in the Store category and called Living Vino Market – this is where you'd find our produce with a larger assortment and cheaper!
And of course you can visit us at 56 Lado Asatiani Street to pick up our Market items yourself!
🏡 We are open 12:00 noon until 10pm (with kitchen closing at 09:30pm) for lunch, dinner, drinks and bar appetizers 🌿 You can book a table directly via LivingVino.com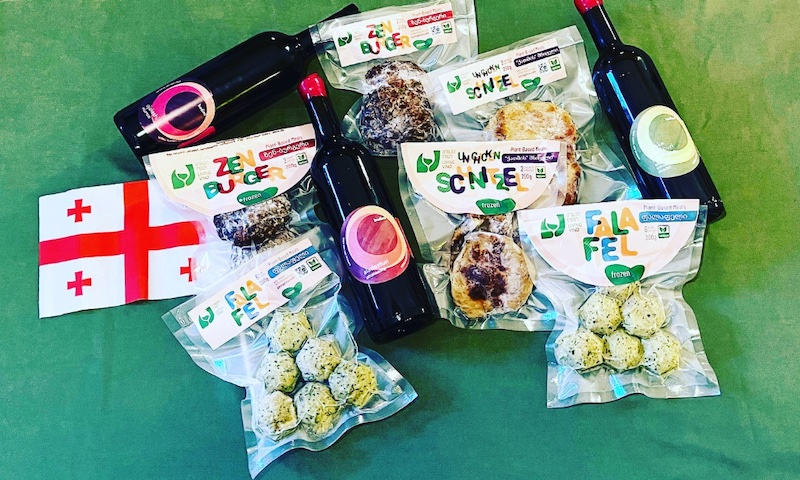 Living Vino Market Products
So let us tell you more about what's in store!
First of all, you will find Chilled, Frozen and Wines categories.
In the Chilled category we offer freshly made tofu and plain seitan, so you can cook whatever you'd like at home. In addition to that, we craft our sausages in-house, so you can indulge in our succulent Apple-Beer unSausages, Italian unSausages, spicy Pepperoni and fragrant Pastrami (already a bestseller!!!). It takes over 24hrs to produce BBQ Ribsss, so they aren't cheap, but so lip-smacking delicious! And of course we offer our sauces – burger, French dressing and Georgian pesto (made with coriander). We invite you to enjoy our sausages lightly warmed up or fried, but also as cold-cuts. Our pastrami is perfect for your own Reuben sandwich!
In the Frozen category you'd find our bestsellers from the previous years – frozen Zen burger patties, un-Chicken Schnitzels and Falafels, but we've also added frozen Bean burger patties, vegan 'meatballs' and, recently, Bolognese pasta sauce, so you can cook your own pasta and simply heat up our Bolognese (made with seitan and marinara) and you'd have a fantastic meal!
As always, take a quick look at our natural wines. These are truly artisanal wines made without nasties.
🍷 Our UK certified wine expert with WSET Diploma has carefully handpicked a large selection of natural wines by the glass with some really amazing exclusive wines by the bottle too.
Drink wines with no nasties or excessive sulphites and love your mornings after! 🍇
More Plant-Based Meats or Vegan Products?
We'd also like to ask you a quick question please – what kind of plant-based groceries you are also interested in? We are thinking about our Vegan Butcher production pipeline and your needs and wants are important to us. Thank you!
#livingvino #vegan #plantbased #shop #market #grocery #naturalwines #georgianwines #Mediterranean #healthy #wholefoods #wine #lunch #dinner #drinks #menu #inspired #nutrition #exciting #wines #delivery #takeaway #discount #online #collect #club #newsletter #store #falafel #frozen #hummus #burger #schnitzel #pesto #granola #seitan #tofu