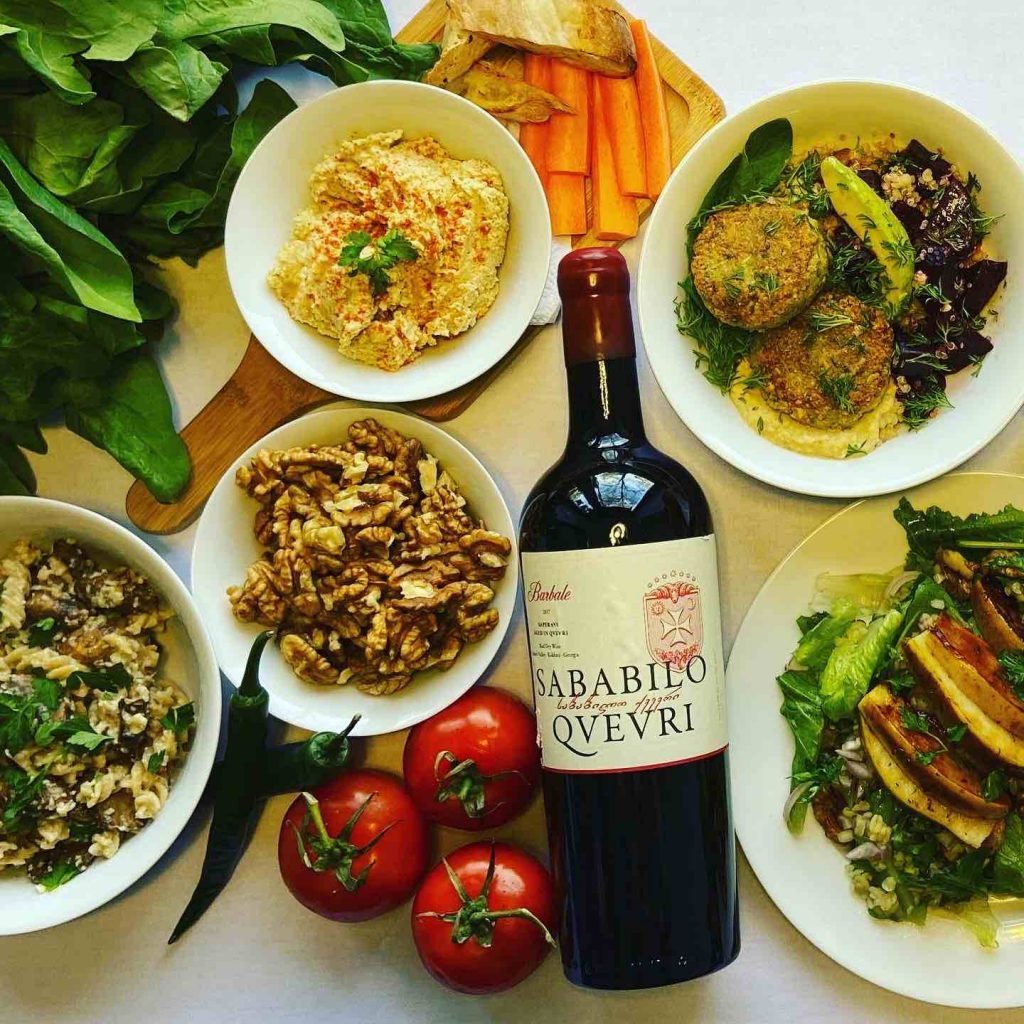 Imagine, you host a small party and trying to decide what kind of wine to buy. For many, it is a nightmare.
We all want to be great hosts and serve wine that will be liked by our guests. But how to guess correctly? We are going to discuss how this works and suggest a fail-safe way of how you are on top of things all the time.
Now, another situation, you know which wines your guests like, but would these wines go well with your food? It is another pickle, isn't it? We will show you how to be wine and food pairing royalty below.
What's more, you do not need tons of wine books to read to master all this. Have you been reading about food and wine pairing, but felt a bit overwhelmed by the rules?
In this useful wine lesson, we will look at how you can change this. It is really easy to start being innovative and creative based on just a few suggestions.
Stop being a victim of somebody else's taste preferences
Your better wine decisions should be your own. Learn more about your preferences and think about what your guests would like.
Many newspapers and magazines try to offload a lot of unnecessary rules. Avoid those, create your own wine rules instead!
Our suggestions based on chemical reactions of one type of food with a particular wine. But yet again, those should be treated as recommendations.
You just need to bear in mind that most foods that usually go well with wine, in general, would taste OK with the good wine you would buy. Feeling better already?
How to always buy wine that your guests would like?
Let's gain some more confidence in selecting wines. Good wine should give you pleasure and satisfaction and not confusion or intimidation.
We will start with the basics.
Why do you think some people like young and punchy red wines and some find them too bitter and unpalatable?
The explanation lies with the sensitivity to bitterness. It is this simple!
So how do we find out whether we are sensitive to it or not that much? Simply ask yourself a very straightforward question -"How do I take my black tea of coffee"?
Same goes for your guests – being a good friend, you probably know whether they like it very milky or espresso-style.
We will call those of you who put a lot of milk and maybe sweeten your drink to make it palatable very sensitive. They will be overwhelmed by very tannic and bitter reds, so avoid young Cabernet Sauvignon or young Saperavi or Otskhanuri Sapere. These types of wines would be too big for those tastebuds. So think about something mellow and aged – lighter-bodied Aladasturi and Chkhaveri would do perfectly, but also those wines that underwent long periods of ageing, they are soft and velvety now.
On the other opposite side, there are people who can drink an espresso shot without any milk and with a lot of pleasure. These people are very tolerant to bitterness and, as opposed to the previous groups, could simply miss that their food or drink tastes bitter. Hence even young unaged reds, full of playful and stalky tannins are absolutely OK. Untamed and playful reds just our of qvevri would be just fine! These wine lovers would most certainly think of lighter-bodied wines as flavourless and too weak. You know now, they simply want to enjoy bolder flavours, otherwise, they will tell you the wine is watery and thin.
There are obviously people in the middle, they can appreciate the light and delicate flavours, but can also enjoy bigger and bolder flavours. These people will still be sensitive to bitterness, so think about rounder wines, mature and not too astringent. Avoid unripe tannins for them too.
You can see, this simple question can tell you a lot about what kind of wines to select. Now you can treat your dinner guests better. Well, let's assume you do not meet them for the first time!
You can now experiment with your wines without major risk involved. As you can see, it is very straightforward.
You can start shopping for wine with some questions in mind — how bold you need the flavours to be, how delicate you need your wine to be.
How to make sure your food complements your wine and does not make it taste rancid?
Let's move on how to ensure your food would be perfect for your selected wines. There are some specific food attributes that affect your perception of wine. It is again a very simple science.
Food specific characteristics may influence your choice of wine. Learning more about it will enable you to pick better wines, each time.
There are 3 basic groups of food & wine pairings:
good matches,
bad matches,
matches you need to treat with caution.
The latter group involves foods that some people find unpleasant with a certain wine, but some will rave about it. Luckily, we have plenty of tricks on how to make foods to suit the vast majority of wines.
Good pairings:
By adding some salt and acidity to your food you are not only going to enhance the flavours, but you are also going to magically make your wine taste less bitter, less acidic, less dry and less tannic. You will taste a bit more fruit, richer flavours and a touch of sweetness.
Season your food with a bit of high-quality salt and add some lemon-based dressing!
Do not go overboard, no food should taste more acidic than your wine, squeeze your lemons with caution.
Bad match:
Sweet food is a very difficult option. By the time you are done with your main courses and move on to pudding, you normally also finish drinking that awesome wine. Drinking that wine with a pudding will make it taste drier, more acidic and much more tannic.
Notable exceptions include wines with elevated sweetness, you can opt for medium sweet Gewürztraminer and go sweeter and sweeter to fortified Port wine.
Caution:
The term Umami, which refers to savoury foods, is something that you can taste in salted mushrooms easily. It is generally not a pleasant combination as this flavour does the same as sweet food, but it also doesn't like tannins or oak, so generally speaking, you food can have umami flavour yet if it is not ultimately prominent, you should be OK.
If you match your wine with oily and fatty foods, you will notice that you wine starts to taste smooth and less acidic. Nothing wrong with that, so go for very acidic wines. Think of refreshing dry white wines with oilier foods.
If you are a fan of spicy foods, you should know that alcohol will elevate chilli burn and make the wine taste quite sharp. What you can do is simply pick wine that has a touch of sweetness and tastes very fruity. By doing that it will taste much more mellow with your spicy dish, and this is a combination is what many people find attractive. Think of very fruit-driven white wines with some residual sugar. Foods like spicy Thai, Indian or Chinese dishes ask for wines with some fruity sweetness.
Have a go at it. Would you agree? Some people rave about this combo, some simply hate it. Again, it is all down to your own preferences.
Top tip: opt for lower alcohol wines when eating spicy foods as you do not want your wine taste too strong.
Create a synergy between your food and wine
If you have taken into consideration all of the above, you are already a winner. How to make it so good that the best restaurants would be jealous? You need to balance how flavorful is your food with the body of the wine.
Lighter, medium and full-bodied wines will need similar flavour intensity from your food. If you are serving several courses, think of how pronounced is every dish of yours and whether the balance would be correct. So it pays off to know and recognize the body of the wine! Have a look at our wine lesson on wine tasting at home, we've covered that part and much more over there.
Food and Wine matching exercise – do it at home!
We cannot finish this and not to offer an exciting exercise for you.
Whereas the theory is useful, let's match some food to wine.
You will need:
a green apple (tart and acidic),
good splash of extra virgin olive oil (just soak a piece of bread in it),
oat biscuit,
walnuts,
chocolate biscuit,
pinch of salt.
Note what happens when you have a sip of wine with that particular food.
Does your wine start to taste fruitier or less? 
More acidic or less? 
More bitter or less? 
Richer or lighter? 
Have a good taste and note how acidity, saltiness, sweetness, oily/fatty or spicy foods affect your perception of wine.
Which pairings do you like?
Have a go and put some notes about your findings.
Wine & Food Exercise Observations
Apple will decrease the fruitiness and acidity; make the wine taste more round.
If you choose apples with quite a lot of acidity (Granny Smith or Bramley), they will decrease acidity in wine and increase richness, sweetness and fruitiness. You can see that this is the reason you add a squeeze of lemon juice to some of your dishes and salad dressings.
Chocolate biscuit, on the contrary, will increase bitterness, acidity and make the wine feel more aggressive and astringent. At the same time, it is decreasing its richness, fruitiness and overall mouthfeel. As you can see, the sweetness is an unwanted guest here.
Olive oil will decrease acidity and increase roundness, leaving the fruit content pretty much how it is; yet because of its complexity, it will make the wine taste more simple. You should consider matching it with quite acidic wines, as in general, those acidic wines cut through oily and fatty foods well, and the wine becomes richer, slightly sweeter and fruitier.
Oat biscuit increases the perception of fruitiness, leaving acidity and roundness as they are. One of our best choices here. If you want to switch from one wine to another it is also a very mild, but effective way to do so.
Walnuts (and other popular nuts) are a wonderful match. You will feel that the wine started to taste fruitier, slightly more acidic and powerful. Experiment with different nuts to check which ones are your favourite. Almonds are generally very good too.
Saltiness is almost always a favourable match as it increases the roundness of the wine and decreases acidity and possible astringency.
Increase Wine Appreciation & Wine Confidence
The more you practice these recommendations, ask your friends about their taste preferences and make notes on everything, the more you develop your wine & food matching skills. You appreciate and enjoy your wines more too.
You are on the journey to becoming a perfect host. Be warned, friends would be jealous!
(а теперь по-русски:)
Винная Школа: Учимся Мастерству Сочетания Вина и Еды
Представьте себе ситуацию: вы планируете небольшую вечеринку и думаете, какое вино купить. Эта мысль повергает вас в панику? Все мы хотим быть отличными хозяевами и угощать вином, которое понравится каждому гостю. Как же правильно выбрать? Мы расскажем, как это сделать и поделимся приемами, которые помогут вам всегда быть королем вечеринки и угодить всем ценителям вина.
А бывает, что вы точно знаете, какое именно вино предпочитают ваши гости, но сомневаетесь, подойдет ли оно к еде, которую вы готовите. Тоже непростая ситуация, не так ли? Мы поможем сочетать блюда и вина наилучшим способом.
Более того, вам не нужно перечитывать тонны книг по вину, чтобы с легкостью решать подобные этим задачи. Возможно, раньше вы уже пытались разобраться в этом с помощью литературы, но в результате чувствовали, что все это слишком сложно с учетом всех описанных правил. В этой короткой статье мы посмотрим, как это можно изменить. Мы докажем, что быть креативным и инновационным, основываясь всего на нескольких основных вводных – абсолютно несложно!
Перестаньте быть жертвой чужих вкусов
Лучшие винные решения для вас должны быть только вашими. Изучайте ваши предпочтения, ищите то, что нравится вам и думайте, что сможет понравиться вашим гостям.
Многие журналы и газеты пытаются навязать многочисленные правила. Старайтесь избегать следовать им, создавайте свои собственные винные законы!
Наши вводные основаны на химических реакциях между определенными типами еды и вина. Но еще раз подчеркиваем, относитесь к ним только как к рекомендациям.
Все, что нужно помнить: большинство еды, которая в принципе подходит к вину, отлично подойдет к хорошему вину, которое вы купите. Чувствуете, как все становится проще?
Как покупать вино, которое будет нравиться вашим гостям?
Давайте добавим вам уверенности в правильности выбора вин. Хорошее вино обязано приносить вам удовольствие и не в коем случае не добавлять в вашу жизнь растерянность или опасения.
Начнем с основ.
Как вы думаете, почему одним нравятся молодые и пикантные красные вина, а другие считают их горькими и даже неприятными?
Объяснение очень простое – дело в степени чувствительности к горечи.
И как же нам определить, чувствительны ли мы ней или не сильно? Посмотрите на то, насколько крепким вы пьете ваш черный чай или кофе.
Тоже касается и ваших гостей. Будучи хорошим другом, вы наверняка знаете, предпочитают они кофе с молоком или эспрессо.
Если вы добавляете много молока и, возможно, сахара, в ваш напиток, то можно называть вас очень чувствительным. Очень танинные и горьковатые красные вина будут для вас "слишком". Избегайте молодого Cabernet Sauvignon, молодого Saperavi или Otskhanuri Sapere. Они будут чересчур резкими для ваших вкусовых рецепторов. Лучше подумайте о более зрелых и мягких – отлично подойдут легкотельное Aladasturi и Chkhaveri, а также выдержанные вина: мягкие и бархатистые.
Если вы с удовольствием пьете эспрессо без грамма молока и сахара, скорее всего вы – очень толерантны к горечи и, в отличии от предыдущей группы, даже будете страдать в случае ее нехватки в вашем блюде или напитке. Тогда вам придутся по вкусу молодые не выдержанные красные вина, играющие, но с выраженной танниностью. Не укрощенные играющие красные вина из квеври тоже будут отличным вариантом. Также такие любители вина наверняка посчитают легкотелые вина безвкусными и слишком слабыми. Теперь вы знаете, что они просто хотят насладиться более выраженными вкусами, а такие варианты назовут водянистыми и "худыми".
Очевидно, что есть и серединные опции. Люди этой группы оценят по достоинству легкие и деликатные вкусы, но также смогут насладиться более яркими и выраженными. Такие ваши друзья все-таки будут чувствительными к горечи, поэтому подумайте про зрелые и не слишком вяжущие вина. Также избегайте таннинов в их напитках.
Смотрите, как много информации для выбора вин может вам дать ответ на такой простой вопрос. Теперь вы сможете лучше позаботиться о ваших гостях. Во всяком случае о тех из них, с кем вы не встречаетесь за обедом в первый раз.
Теперь вы сможете экспериментировать вашими винами без особого риска. Как видите, это не сложно. Начинайте ваш винный шоппинг, держа в голове вопрос: насколько сильные вам нужны вкусы и насколько деликатным должно быть ваше вино.
Как убедиться, что ваша еда подходит к вашему вину и не делает его вкус хуже?
Давайте перейдем к вопросу подбора идеальных блюд к выбранному вами вину. Есть некоторые специфические характеристики еды, которые влияют на ваше восприятие вина. Снова же, это очень несложная наука.
Особенности вашей еды влияют на ваш выбор вина. Некоторые знания в этой области позволяют вам с каждым разом все лучше и лучше подбирать вино. Food specific characteristics may influence your choice of wine.
Есть три типа сочетания еды и вина:
Хорошо сочетаемые,
Плохо сочетаемые,
Наборы, которые лучше формировать с осторожностью
Последние сочетания – это такие, которые некоторым людям не понравятся, а другим придутся очень даже по вкусу. Но, мы подскажем некоторые приемы, которые сделают еду подходящей к подавляющему большинству вин.
Хорошо сочетаемые:
Добавив в еду немного соли и кислотности, вы не только подчеркнете ее вкус, но и магическим образом сделаете ваше вино менее горьким, менее кислотным, менее сухим и менее танинным. Вы будете ощущать больше фруктовых ноток, вкус станет богаче, добавится сладость.
Приправьте вашу еду достаточным количеством соли высокого качества и добавьте заправку на основе лимонного сока!
Но не переусердствуйте, еда не должна быть более кислотной, чем ваше вино, так что выдавливайте лимоны без фанатизма.
Плохо сочетаемые:
Сладкие блюда довольно сложная опция. К тому времени, когда вы заканчиваете ваши основные блюда и переходите к десерту, вы обычно допиваете ваше прекрасное вино. Если вы продолжите пить то же вино со сладким, его вкус станет более сухим, более кислотным и намного более танинным.
Исключение составляют вина повышенной сладости. Вы можете выбрать среднесладкий Gewürztraminer и затем переходить к еще более сладкому крепленому портвейну.
Предупреждение:
Вкус "Умами", который относится к пикантной еде, можно легко различить в соленых гриба. Обычно он является не очень хорошим дополнением. Он действует так же, как и сладкая еда, но кроме того он также не любит танины и выдержку в вине, поэтому в общем, конечно, в вашей еде может быть умами, и это будет вполне нормально, пока он не слишком ярковыраженный.
Если вы сочетаете ваше вино с жирной пищей, то оно становится более мягким и менее кислотным на вкус. Можно использовать этот эффект для очень кислотных вин. Также попробуйте освежающее белое с более маслянистой едой.
Если вы – фанат острой пищи, знайте, что алкоголь усиливает эффект чили, который, в свою очередь, усиливает остроту винного вкуса. Что вы можете сделать – выбрать вино, у которого есть сладкие нотки и явные фруктовые оттенки. Оно станет более ярким с острой едой, и такая комбинация понравится многим. Стоит взять выражено фруктовое вино с некоторым остаточным сахаром. Такая еда, как острая Тайская, Индийская или Китайская отлично подходит к винам с фруктовой сладостью.
Попробуйте. Как впечатление? Одни сходят с ума по такому сочетанию, другие просто ненавидят его. Опять же, это вопрос только личного вкуса. .
Подсказка: берите вино с низким содержанием алкоголя к острой пище, если не хотите, чтобы оно ощущалось слишком крепким.
Создавайте синергию между вашей едой и вином
Если вы взяли на вооружение все, что мы написали, вы уже серьезно продвинулись. Но как же сочетать эти вещи таким образом, чтобы завидовали все рестораны? Необходимо соблюдать баланс между тем, насколько интенсивен вкус вашей еды и вина.
Легкие, средние и полнотелые вина нуждаются в еде, соответствующей им по интенсивности вкуса. Если вы подаете несколько блюд, подумайте о том, насколько выражен вкус каждого из них и будет ли соблюден баланс. Тут очень пригодится знание и умение распознавать тельность вашего вина. Посмотрите наш урок по домашней винной дегустации, в нем мы подробнее писали об этом.
Сочетание вина и еды – домашние упражнения!
Мы просто не можем закончить эту статью и не предложить вам отличное упражнение для тренировки дома. Как бы ни была полезна теория, давайте попробуем на практике сочетать еду и вино.
Вам понадобится:
Зеленое яблоко (твердое и кислое),
Немного оливкового масле extra virgin (просто обмакните в него кусочек хлеба),
Овсяное печенье,
Грецкие орехи,
Шоколадное печенье,
Щепотка соли.
Заметьте, что происходит, когда вы делаете глоток вина с каждым из этих продуктов.
Вкус вашего вина становится более или менее фруктовым?
Более или менее кислым?
Более или менее горьким?
Более богатым или более легким?
Распробуйте хорошенько, обращая внимание, насколько кислая, соленая, сладкая, жирная или острая еда влияет на ваше восприятие вкуса вина.
Какие сочетания пришлись вам по вкусу?
Попробуйте и сделайте заметки о ваших открытиях.
Наблюдения
Яблоко уменьшает фруктовость и кислотность, делает винный вкус более ровным.
Если вы возьмете достаточно кислое яблоко, например Гренни Смит или Брэмли, оно снизит кислотность вина и обогатит его вкус, добавив сладости и фруктовых ноток. С этой же целью вы можете добавить немного лимонного сока в ваше блюдо или салатную заправку.
Шоколадное печенье, напротив, увеличит резкость, кислотность и сделает вкус вина более агрессивным и выраженным. В то же время, оно уменьшит его фруктовость и мягкость. Можно сказать, что в этом сочетании сладость является незваным гостем.
Оливковое масло уменьшит кислотность и сделает вкус более ровным, оставляя фруктовую составляющую в исходном состоянии, однако из-за полноты его вкуса, оно делает вкус вина более простым. Стоит совмещать его с достаточно кислотными винами, так как при этом они будут становиться более фруктовыми, немного более сладкими и в целом более богатыми вкусом.
Овсяное печенье подчеркивает в вине фруктовые нотки, не влияя на кислотность и тельность. Это один из лучших вариантов для совмещения. Также это отличный способ перехода с одного вина на другое, мягкий и эффективный.
Грецкие (и другие) орехи также являются отличным дополнением. Вы почувствуете, что вино стало ощущаться более фруктовым, немного более кислотным и ярким. Экспериментируйте с разными видами орехов, чтобы найти вашего фаворита. Обычно отлично подходит еще миндальный орех.
Соленые закуски также почти всегда любимые дополнения, так как они подчеркивают вкус вина, его наполненность, а также снижают кислотность и возможную терпкость..
Развивайте свои навыки по вину и уверенность в нем 
Чем больше вы тренируетесь выполнять наши рекомендации, узнаете у ваших друзей их вкусовые предпочтения и делаете об этом всем заметки, тем больше вы развиваете ваши навыки сочетания еды и вина.
Вы уже на пути к тому, чтобы стать идеальным хозяином вечеринок. Но будьте осторожны, друзья начнут вам завидовать!