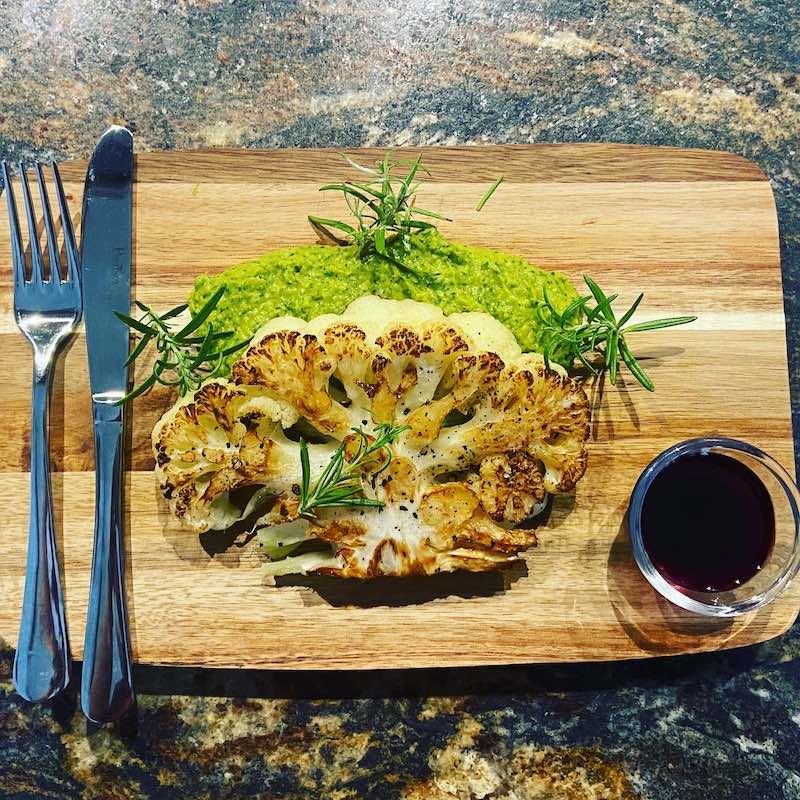 Wine is not an unusual ingredient when it comes to cooking. Though it is traditionally being used to make meat more tender and for various marinades.
No fear, vegan natural wine bar is here to help you use wine in your plant-based cooking too.
We can still think of marinades (i.e. tofu), reducing wine to make wonderful sauces and also such dishes as risotto.
Wine will also make your veggies more tender if you use it whilst sautéing – think of vegetable stews for example. Our big time love is mushroom bourguignon. By slow-cooking your veggies with wine you will achieve wonders!
Talking about mushrooms, stewing them in red wine and lots of pungent herbs will make them not only tender, but if you are using wood mushrooms or other meaty one, it will help you achieve same slightly chewy and pleasant texture.
Here are some very good ideas for popular vegan dishes you can experiment with and use wine in your vegan cooking:
Ratatouille – definitely use some red wine in your tomato sauce
Risotto – it is a classic to use white wine when cooking your arborio rice
Our vegan steak is served with wine sauce, simply reduce a lot of red wine with onions and pungent herbs to achieve a flavor bomb. Have a closer look at the main picture to this post – it does look intriguing!
Want to make a traditional vegan Georgian stews? Ajapsandali is the word and don't be shy to use red wine in your pot.
There are some recipes for desserts that call for red wine – simply search for Saperavi cake.
Our vegan soft n-ice cream can be flavored with Saperavi too – ask us for a delicious taster!
If the weather isn't peachy, make a delicious vegetable soup. You can use so many different veggies and sautéed them in white wine.
We've already mentioned mushroom bourguignon, use good quality and quite acidic red wine when cooking and you'd achieve greatness.
Consider pasta and prepare garlic and white wine penne, fight infections and get a bowlful of comfort food.
Have you tried our vegan burger? If so, be warned, there is a dash of red wine, we just like this tiny naughty addition.
Finally, last but not least important by any means is vegan creamy polenta and red wine mushrooms. It is really satisfying and packed with flavor. As a bonus to this short review, we are going to share a recipe.
How to cook vegan polenta with red wine mushrooms.
Begin by making sure you've read the below and you can cook polenta and your mushrooms in two parallel processes. 
For polenta you will need a cup of cornmeal, 3 cups of water, 3 tbsp of vegan butter and a tsp of salt. Boil water and add salt, slowly start adding cornmeal constantly stirring. Cook for 10-15 minutes with a close attention to your polenta – it will absorb the water and your tasks not to get any lumps during the process. When it is thick you can add vegan butter, so it melts and achieves extra creaminess.
In the meantime, cook your mushrooms. You will need to use about 0.5 kg of good quality mushrooms. Additionally you will need some olive oil, 4 large cloves of garlic, 1 tsp dried rosemary, 1/2 cup good quality red wine and 3/4 cup veggie stock. If you like your mushrooms toping to be thicker you can use 1 tsp of cornstarch.
Begin by heating up your oil, sautéing chopped garlic and then adding thickly sliced mushrooms. They will start releasing liquid and brown a bit after 5 minutes. It is time to add rosemary and red wine. When it is cooked or absorbed into mushrooms, about 5 minutes after adding, you can add veggie stock and cornstarch. Season to your taste.
In general it is ready. Arrange polenta on the plate and top with red wine mushrooms. We also love to add French thyme on top for an extra touch of aromas. Mushrooms are really awesome with thyme.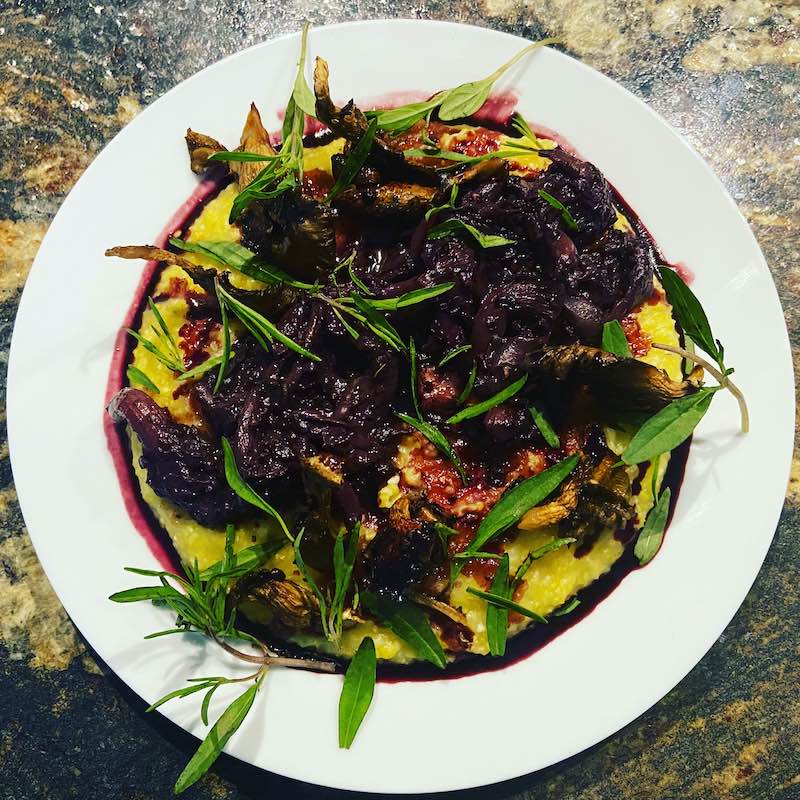 Now you have it – polenta with red wine mushrooms. And we cannot miss the point that it is so delicious and the portion is under 300 calories. This recipe makes 4 portions, so you can delight your friends with it too!
Be healthy, cook and eat delicious vegan food. Or visit Living Vino for a chat and some plant-based dishes paired to natural wines.