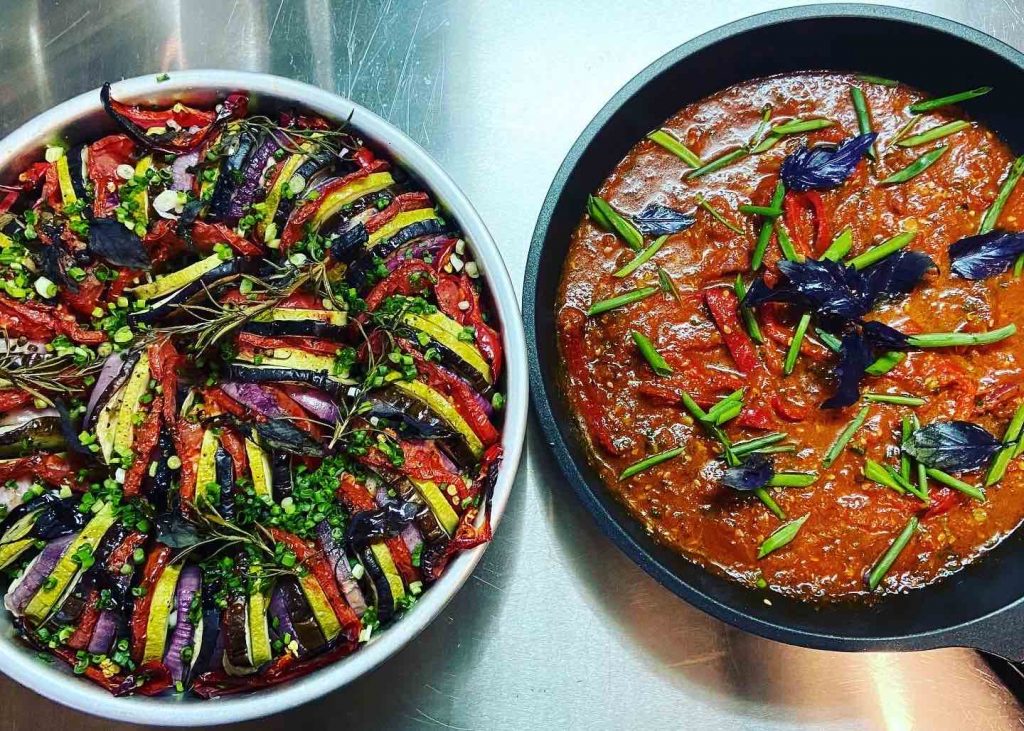 When thinking about classic vegan dishes from the popular cuisines around the world you stumble upon ratatouille very easily. And it is not just because it's French or rings a bell after that very touching cartoon, Ratatouille is simply healthy, quite easy to make and is a crowd-pleaser.
The only one thing with Ratatouille is that it's a simple country-style dish, so it is quite difficult to make it look restaurant-pretty. Though in our humble opinion, we've achieve this too.
What would you need to make Ratatouille?
Start with a variety of vegetables. We've used eggplants, large tomatoes, zucchini and red onions. A minimally classic choice. You would need to slice them very thinly, approximately 1-2 mm each so they need to be fit and you need to have a very good knife. Be warned.
You can start by making sauce first. You'd need olive oil, diced onion, minced garlic cloves, diced red and yellow peppers, crushed tomatoes, plenty of herbs (especially basil) and seasoning.
It would be great to have extra herbs so you can scatter them onto your baking veggies, so think of parsley, thyme and rosemary.
How to prepare an amazing Ratatouille: step by step
You'd need to preheat your oven to 190 C.
Begin by making the sauce: in a pan you need to heat your oil and sauté onion, garlic and peppers, add a good measure of red wine and cook further until your wine softens veggies. Season, add crushed tomatoes and stir. When cooked, simply add basil and stir again.
In the meantime, slice your veggies and arrange in an alternating pattern on top of a generous portion of sauce. You'd have a very colorful arrangement in your roast tin. Be patient, great presentation is dependent on you being meticulous with these thinly sliced vegetables.
Top your veggies with extra herbs, olive oil and seasoning. Cover with foil and bake for approximately 40 minutes. Uncover, check how soft they are and cook for another 20 minutes to give them more color and soften them further.
Serve with a generous portion of your sauce and some basil on top.
Ratatouille is perfect vegan dish for entertaining
What's great about this dish is that it can be a side or a main, you can cover it with foil and reheat the next day as well.
When you master the arrangement, your presentation will look like ours and you'd have a truly show-stopping dish. Perfect for entertaining guests, dinner parties and celebrations. It is light, low in calories and delicious. Don't forget fresh herbs like rosemary and basil to make it French and fragrant!