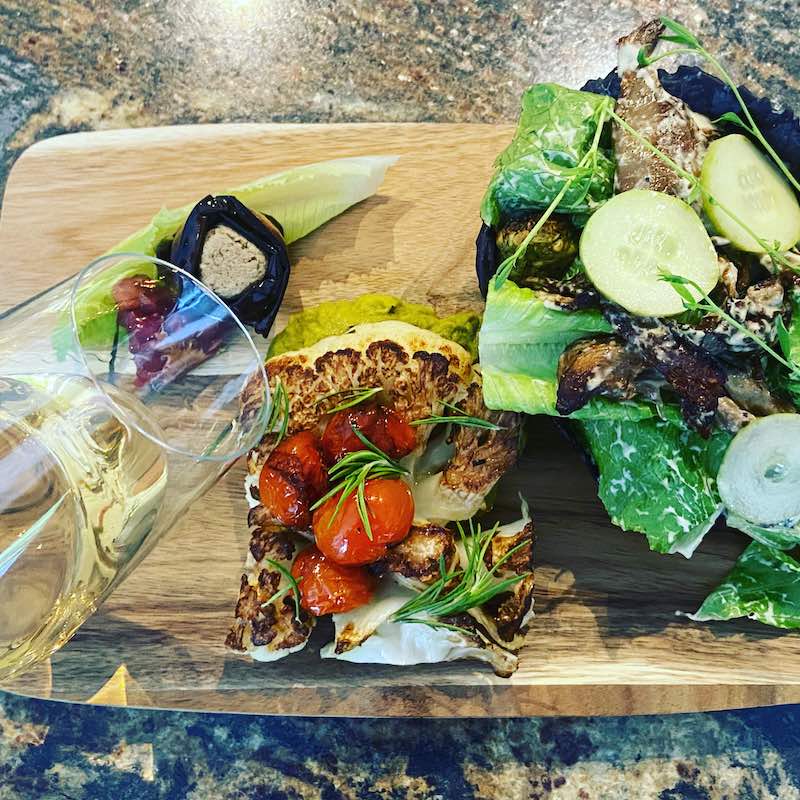 Living Vino presents our first natural wine bar event. And as we feel very strongly against using sulphur in winemaking we'd like to showcase no sulphites added wine paired to a taster board of our popular healthy dishes.
Come this Friday, 19th June from 7pm to 10pm and try our vegan Caesar salad, eggplant roll and a cauliflower medallion with a pea puree paired to a natural white wine made with ZERO sulphites. Enjoy this board with 2 glasses of wine for 35 GEL.
Some winemakers claim that sulphites are those nasties also responsible for your headaches the morning after. We agree but it is up to you to test!
Мы представляем наш первый вечер посвященный натуральному вину. Так как мы являемся большими противниками добавления серы в вина, то мы начинаем с вина, которое сделано без серы вообще. Будем предлагать его с нашей доской из дегустационных порций наших популярных здоровых блюд.
Приходите в эту пятницу, 19-го июня с 7 до 9 вечера и пробуйте наш веганский Цезарь салат, баклажанный рулетик и медальон с цветной капусты и гороховым пюре, все это с натуральным вином сделанным БЕЗ сульфитов. Такая доска и два бокала вина – 35 лари.
Некоторые виноделы говорят, что именно сульфиты отвечают за ужасные головные боли от вина на следующее утро. Мы согласны с этим утверждением, но проверять Вам!
Looking forward to seeing you here – booking recommended as spaces are very limited due to restrictions!
Мы ждем Вас – бронь столиков желательна, так как места ограничены из-за коронавируса!
Questions or to book, visit Book a Table page or text 574076809.
Для заказа стола отправьте форму со страницы Заказ Стола или отправьте сообщение на номер 574076809.