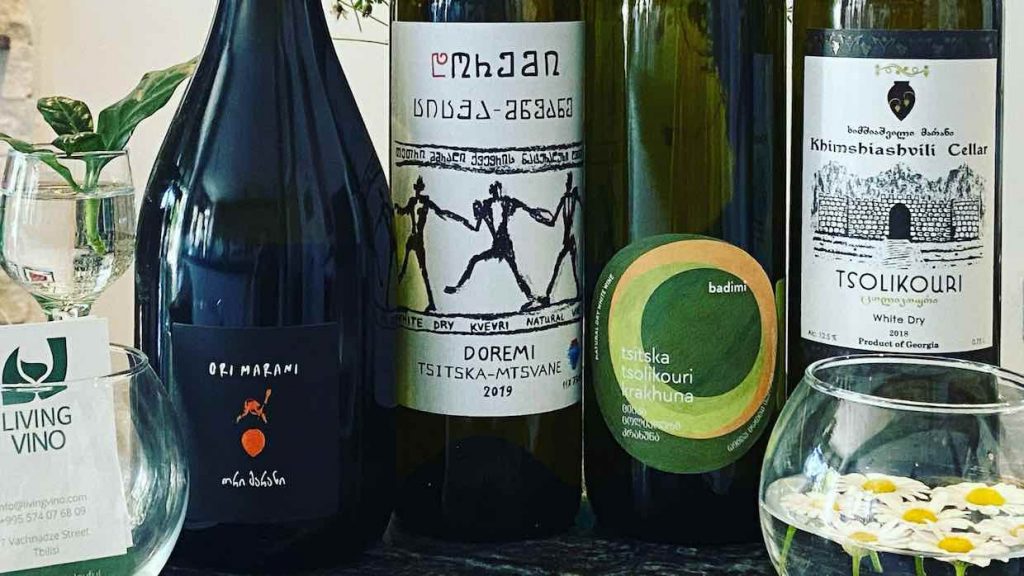 Living Vino introduces Natural Wine Tasting Flights
ახალი! ცოცხალი ღვინო სადეგუსტაციო ღვინის სეტები / Новинка! Винные дегустационные сеты
We offer an opportunity to try a selection of wines (50 ml each) that were carefully selected by our wine expert to form a wine tasting flight.
Each flight of 4 wines is 25 GEL. Wine stories included!
We are also going to open bottles of natural wine that are not available by the glass. Don't miss this opportunity to try our exciting Natural Wine Flights as follows:
'Flower Power'
Rkatsiteli Rare
Tsolikouri Khimshiashvili Cellar
Tsitska Tsolikouri Baia's Wine
Tsitska Tsolikouri Krakhuna Badimi
Light-Hearted Tannins
Aladasturi Rose Gvantsa's Wine
Aladasturi Badimi
Otskhanuri Sapere Gvantsa's Wine
Saperavi Rose Zangaura
Bigger, Stronger & Bolder Reds
Saperavi DoRemi
Otskhanuri Sapere Gvantsa's Wine
Saperavi Premium Zangaura
Otskhanuri Sapere Rare
Orange is a Colour of Happiness
Chinuri Chito's Gvino
Tsolikouri Khimshiashvili Cellar
Kisi Rare
Chinuri Armazuli
Living Vino sells natural wines made without harmful additives. No nasties = No headaches. No allergies or wine intolerances. Just humble & delicious wines that are better for you.
We pair our natural wines to healthy plant-based food. It helps to boost your immunity. Healthy nutrition and food safety are very important. Our food is kind, very tasty and good for you. We use organic and sustainable ingredients.
We run our events, tasting sessions and wine school to offer a fuller experience, to invoke sensations of curiosity and appreciation. Being inspired, you become engaged to the world. It may fill you with a deeper meaning and, ultimately, you feel like a human, again and again.
ღვინო დანამატების გარეშე ნაკლები თავისტკივილია.
დალევ სუფთა ყურძნის წვენს – თავის ტკივილს არ იწვევს!
Без вредных добавок в вине – без лишней головной боли.
Наслаждайтесь вкусными винами, которые лучше для вас!
#livingvino #ცოცხალიღვინო #ცოცხალი #ღვინო #живое #вино #winetasting #nonasties #noheadaches #бездобавок #безголовнойболи #новинка #дегустация #სადეგუსტაციო #ღვინის #სეტები