🪅 Cinco de Mayo 🪅 Are You Ready to Party?
Here is your double-invitation to party on Friday, 5th May!
🌮🌮🌮 First, visit us at Living Vino at anytime from 12:00 noon till 10pm for our delicious set of tacos, thirst-quenching beers and micheladas and zesty Margaritas. We've got some new and tasty tacos with incredible sauces like birria, chipotle and pineapple-habanero. It's a flavour Fiesta!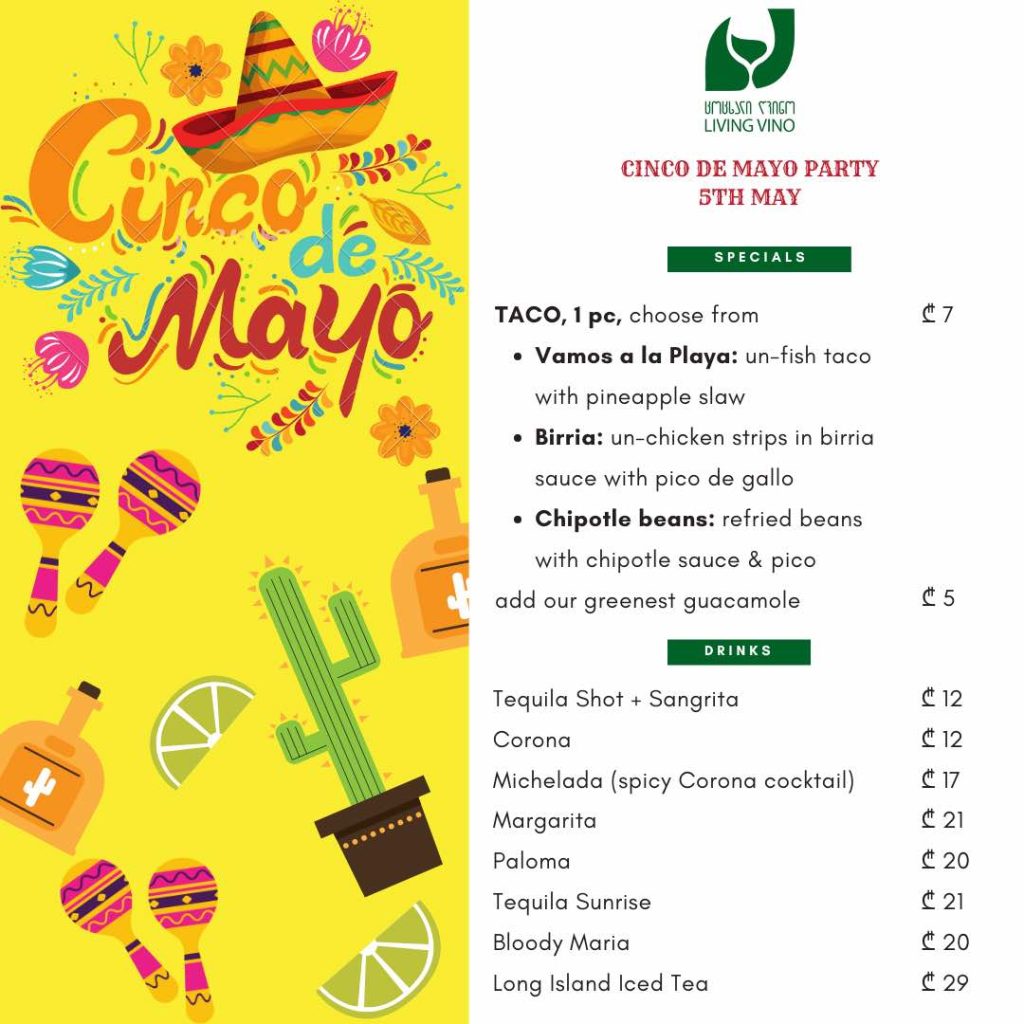 🍹🍹🍹 And the party doesn't need to end at 10pm, so we invite you to continue at So Lucky Bar, where you'd have even more variety of tequilas, cocktails and beers to party all night long until you cannot do it no more!
Join early for delicious drinks fiesta & DJ will be playing from 11pm some unbelievable beats.
🎉🎉🎉 And if our announcement sounds busy, it's because it's gonna be a fun day and night. Full on!
Book your table at Living Vino by calling 574 07 68 09, show your interest in our joint Facebook event so our friends at So Lucky have got you on the guest list.
And let's paaaaaaarty!
Living Vino's location is at 56 Lado Asatiani Street in Sololaki, Tbilisi ❤️.
🏡 We are open 12:00 noon until 10pm (with kitchen closing at 09:30pm) for lunch, dinner, drinks and bar appetizers 🌿 You can book a table directly via LivingVino.com or by 574 07 68 09
So Lucky Bar location is 18 Shalva Dadiani Street in Sololaki. Visit them for draught beers, tasty cocktails and of course tequila shots and Margaritas! They are open until very late, but be warned: fun never stops!
#livingvino #vegan #plantbased #restaurant #winebar #naturalwines #georgianwines #Mediterranean #healthy #wholefoods #terrace #dining #bar #wine #lunch #dinner #drinks #menu #inspired #nutrition #exciting #wines #cincodemayo #tbilisi #party